This post brought to you by
Nanolia Worldwide
. All opinions are 100% mine.
Cleaning is quite a task, as we all know. It's not a relaxing thing that we would want to do every single day of our lives, but it's something that must be done. This doesn't mean like a total aggravation to a daily routine, given the right aid cleaning should be easier than expected.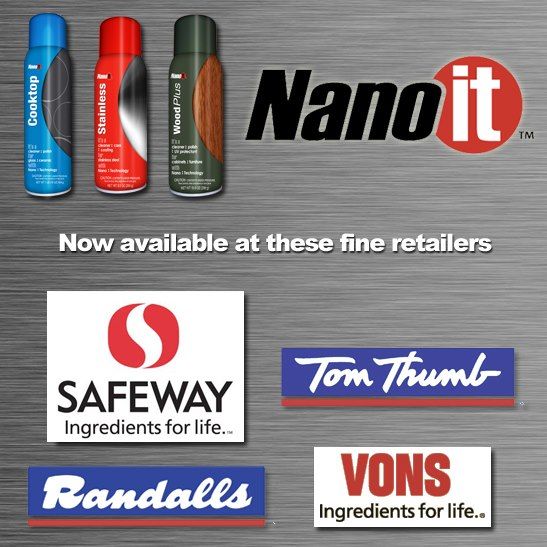 Good news to Safeway, Tom Thumb, Randalls ad Vons shoppers as they are launching the revolutionary Nano-iT brand of products. To make it more inviting to try out these new cleaners, feel free to grab the
coupon
here and use it on your next shopping trip.
What's the hype with the line of Nano-iT products? The maker is a nanotechnology based company specializing in creating products which can help reduce usage of harmful chemicals in the cleaning process. Nanolia have specialty products uniquely formulated wth nano based technology for safer and more efficient cleaning.
I dread cleaning the cooktop since I love to cook so much. Thick sauce spills, grease and such make it quite impossible to clean it with much ease.
Nano-iT CookTop
is an all-in-one cleaner and protector, utilizing nano based technology to work and clean at the microscopic level. Nobody wants to use much chemicals which could be harmful for eventual cooking, having a biodegradable cleaner that does the job of removing grease without heavy scrubbing is a must to have. Less scrubbing means your cooktop coating will also keep its shine and texture without abrasing it.
Cleaning doesn't only tackle sweeping, mopping and such. This includes keeping the furniture dusted, cleaned and on tip-top shape. For wood furniture,
Nano-iT WoodPlus
can help restore the original shine and luster of the wood. Furniture exposed to sun fade eventually and get damaged, regardless if the wood is painted, unfinished or stained, Woodplus is a good solution to get that polished look back.
Not to forget most households have metal furniture as well.
Nano-iT Stainless Cleaner
is the perfect cleaner to keep that steel looking crisp and new. It's an oil-based formula which provides a micro-thin layer proector against fingerprints and smudges, restoring that steel shine back again. Cleaning made easy without fuss and having to use so many chemicals. This leaves you with a safer and chemical-less home like how it should be. Nothing that would be detrimental to your precious family's health.
Subscribe to Journey To Motherhood by Email